Helping Families Stay Connected During COVID-19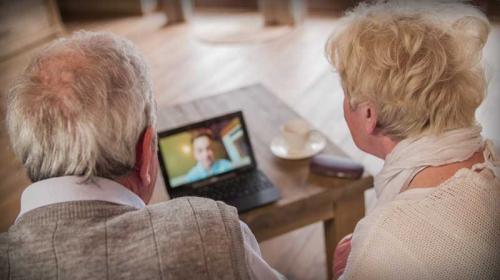 "This is one of the most satisfying services I believe I have ever helped with," said Liz Gates, Senior Advisor for Omni Strategic Technologies. The service that she references was an idea born out of chaos. The shutdown of Good Shepherd Nursing Home to visitors was a tough one for the Administrator, Don Kirsch. But he knew it was necessary to keep the residents as safe from the Coronavirus pandemic that is wreaking havoc on our Nation and leaves the elderly particularly exposed.
"It's never easy to tell a resident or loved one that they need to stay away, but we knew it was the right thing to do to try and ensure the safety of our residents. The challenge then became about finding a way to help keep families connected throughout these difficult times. We have been very lucky to have a partner like Omni Strategic Technologies and do not make decisions regarding technology without them, so we knew they could help us find a way to accomplish this task," commented Mr. Kirsch.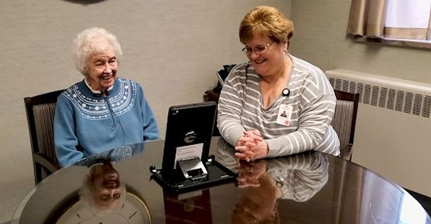 The solution developed and launched at Good Shepherd was to deploy 15 iPads and numerous iPhones to allow residents to have virtual "visits" with friends and family until the lockdown could be lifted. The configuration of the devices and necessary apps was no easy task as described by Omni technician, Ian Holliday. "Initially, we thought this might be an easy solution to deploy. But, making sure that it functioned properly, had all the necessary security in place, and was easy-to-use required many hours of effort. However, we were committed to making this work for our partners at Good Shepherd."
Word of the solution spread quickly and has been featured on local and national news reports. It has been incredibly well-received by the residents, their loved ones, and the staff at Good Shepherd. Director of Nursing, Sue O'Connell added, "Our entire team at Good Shepherd cares deeply about our residents. We work very hard under tough circumstances to keep them well. Any resource that helps us connect the resident with loved ones puts a smile on our face. Having a partner like Omni makes our jobs just a little bit easier. Seeing the smiles on our residents' faces makes these difficult times a little less challenging."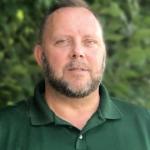 Chip Calissie
Chip Calissie is the Director of Sales & Marketing for Omni Strategic Technologies, a company that specializes in delivering exceptional tech support, best in class advisory services & leading-edge web design.